Offering Treatment & Cataract Surgery with Offices in Kokomo, Westfield, Peru and Logansport, IN
Cataract and Implant Surgery - Modern Techniques to Restore Vision
Cataract, or the clouding of the eye's natural lens, has troubled human vision for centuries. Since cataract was first described in the 1st century B.C., treatments have included poking the cataract out of the line of sight, "couching", and using horse hair to stitch the incision closed. As recently as the 1960's, cataract surgery patients had to lie for days in darkened hospital rooms with their heads surrounded by sandbags to keep them from moving. Today, surgery to remove cataracts is a highly sophisticated procedure with a far shorter recuperation period. Patients usually return home the same day of surgery and over 95% of patients regain useful vision. Cataract surgery has become so common that it is the most frequently performed operation in the United States.
When Surgery Becomes Necessary
Surgery is the only way to remove the cloudy lens and replace it with an implant. The most advanced surgical procedures are done on an outpatient basis at your local hospital facilities; Indiana Surgery Center at Howard Community Hospital (Kokomo, IN), St. Joseph Hospital (Kokomo, IN), Dukes Memorial Hospital (Peru, IN), Logansport Memorial Hospital (Logansport, IN). Surgical counselors are routinely made available to the patient.
Surgical Techniques
There are several techniques generally used for removing cataracts. Your doctor will choose the one that is right for you. Each has an excellent success rate.
*Phacoemulsification: In this method, a tiny ultrasonic instrument is inserted through a very small incision made on or just outside the cornea. This instrument uses ultrasound vibrations to break the cataract into fine pieces, which are gently suctioned out of the eye. The thin capsular bag of the original lens remains for protection and to anchor the new lens implant permanently. The small incision generally does not require stitches. Occasionally a stitch may be used to insure that the wound remains watertight. This small incision surgery allows for faster, safer healing, and speedier return to normal activity.
*No stitch, no patch, no shot cataract surgery is a new variation of the small incision method. It is either performed via a "tunnel" incision right behind the cornea or through a corneal incision creating a very small tunnel. The extraction is performed via a phacoemulsification as explained above and the lens is inserted through this small incision. This creates a flap and such design allows the eye's internal pressure to seal the incision without sutures. Your ophthalmologist will decide which method best meets your needs.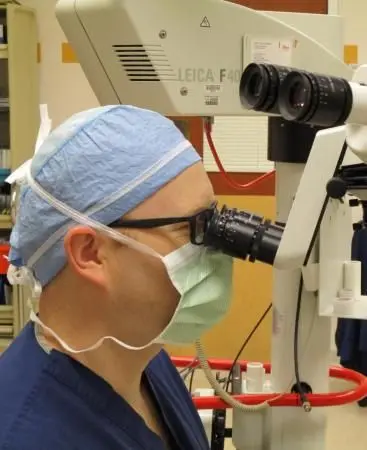 Drs. Wild, Dinn, and Swindler are qualified to perform any of these procedures. It is your surgeon's decision regarding which procedure is most beneficial for your eye to obtain the best possible results.